Chimney Cleaning & Repair in Spokane, WA
It's great to spend time in front of the fireplace on a chilly evening, but if your chimney isn't well-maintained, you could be putting yourself, your family and your home at risk. If you can't remember the last time you called a chimney cleaning company in Spokane, Spokane Valley, or Airway Heights, WA, waste no time in contacting BELL Services, LLC today.
We're chimney experts, delivering complete inspection, cleaning, and repair services to home and business customers. We keep your chimney free of dangerous creosote buildups, obstructions, and general disrepair, so you can enjoy it confidently.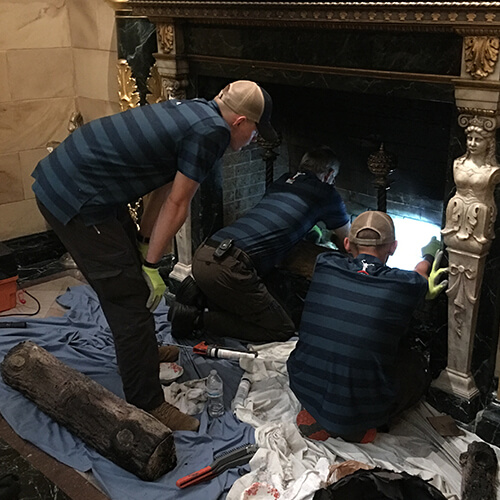 Chimney Inspection Services

We take the time to thoroughly inspect your chimney for signs of creosote buildup or anything that may compromise its safety. We observe National Fire Protection Association (NFPA) standards, so your chimney is always compliant with building and safety codes. We inspect both residential and commercial chimneys.

Chimney Cleaning Services

Creosote buildups are the biggest concern of chimney fires. We offer cleaning to minimize these buildups and make sure your chimney is free of fire hazards. This includes removing other obstructions and thoroughly sweeping, from cap to fireplace.

Chimney Repair

Is your chimney due for relining? Do you need a new cap? We're experts in delivering a broad array of chimney repairs. Our abilities include liners, venting, damper repair, cap replacement, spark arrestor repair, leak repair and much more.

Chimney Rebuilds

If your chimney has suffered severe weathering or has succumbed to age, call on us to rebuild and restore it. We're craftsmen, dedicated to rebuilding and restoring your chimney to the highest levels of safety, quality and stability.

Additional services

Alongside chimney repair and cleaning, we're also the authority for gas logs, high-efficiency wood-burning stoves and other fireplace and chimney products and services. Let us provide you with products and knowledge to keep your chimney safe.
Schedule chimney services or a thorough moss treatment today and enjoy your fireplace with peace of mind. We'll help you avoid dangerous creosote buildups and other chimney issues, to keep your home protected. Contact BELL Services, LLC today at (509) 844-6133 to speak with a professional.